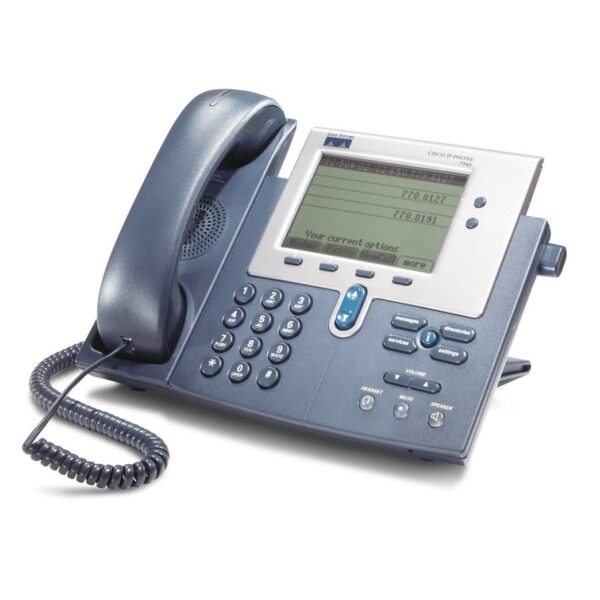 CISCO CP-7940 CP7940 CP 7940 IP telefoon
CP-7940G
The Cisco Unified IP Phone 7940G is a second-generation, full-featured IP phone for low to medium traffic users who require a minimum of directory numbers. It provides two programmable line/feature buttons capable of four simultaneous calls and four interactive soft keys that guide a user through call features and functions. The Cisco Unified IP Phone 7940G also has a large, pixel-based LCD display. The display provides features such as date and time, calling party name, calling party number, and digits dialed. The graphic capability of the display allows for the inclusion of present and future features.
Features
The Cisco Unified IP Phone 7931G is designed to grow with your organization. A dynamic, soft-key driven feature set allows the phone to keep pace with your requirements through regular software upgrades. You can easily move phones, add new phones, and change existing phone arrangements; users can simply pick up their phones and move to a new location anywhere on the network. The Cisco Unified IP Phone 7931G also provides accessibility features for those with special needs.
Lighted line keysTwenty-four lighted line keys to which can be assigned individual lines-Each line key provides a busy-line indication if the line is shared with another IP phone; lighted line keys are also used to access services and call history directories and to activate the headset port.
Dedicated keys for hold, redial, and transferThe hold key is colored red to make it clearly visible in a fast-moving call environment; the redial and transfer keys are provided to facilitate rapid call handling.
Lighted message waiting indicator Lights turn on when there is new voicemail and when the phone rings; visible on both the phone chassis and handset and stay lit until new voicemail has been processed by the user.
Graphical displayGraphical monochrome display with resolution of 192 x 64 pixels and a white backlight provides scrollable three-line intuitive access to calling features and text-based XML applications; the Cisco Unified IP Phone 7931G also supports audio-based XML applications.
Four soft keys and a four-way rocker keyDynamically present calling options to the user; the four-way rocker key allows easy movement through the displayed information.
Network featuresCisco Discovery Protocol; IEEE 802.1 p/q tagging and switching.
Ethernet switch 10/100BASE-T Ethernet connection through two RJ-45 ports: one for the LAN connection and the other for connecting a downstream Ethernet device such as a PC.
11 op voorraad