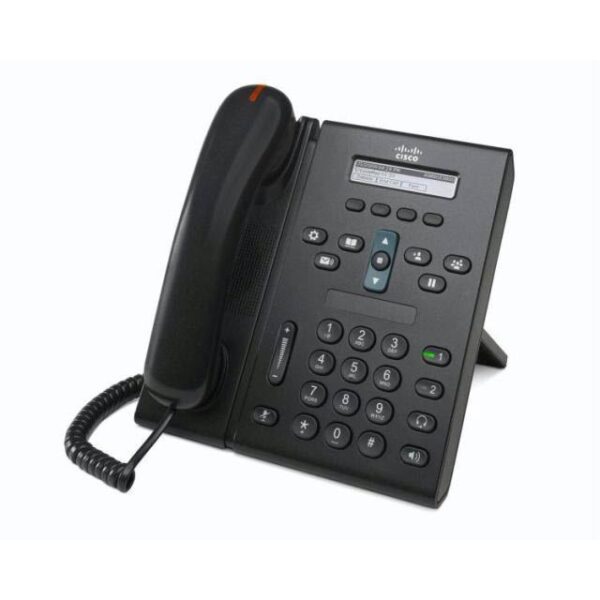 Cisco CP-6921 CP 6921 IP telefoon
Highest quality Cisco certified remanufactured telephone handsets.
The Cisco® Unified IP Phone 6921 is a new and innovative endpoint that delivers affordable, business-grade voice communication services to customers worldwide.
The Cisco Unified IP Phone 6921 supports two lines and offers a full-duplex speakerphone for a more productive, more flexible, and easier-to-use endpoint experience. The Cisco Unified IP Phone 6921 supports single-call per-line appearance, offering traditional telephony-like user experience for customers who seek this type of call interaction for their users. Fixed keys for hold, transfer, and conference; tri-color LED line and feature keys also make the phone simpler and easier to use.
The Cisco Unified IP Phone 6921 offers greater personalization, with the choice of two colors and two handset style options. Right-to-left language presentation is also supported on the displays, addressing the language localization needs of global customers.
The Cisco Unified IP Phone 6921 is also more energy-efficient and eco-friendly, in support of customer green initiatives. A Deep-Sleep option provides energy savings. With this option, the Cisco Unified IP Phone 6921 consumes up to 50 percent less power in off-hours versus when the phone is idle during normal business hours. In addition, reground and recyclable plastics deliver a more earth-responsible solution.
Lighted hold key
Lighted menu key
Lighted message waiting indicator
Graphical display
Co-branding
Ethernet switch
Volume control
Dual-position foot stand
Multiple ring tones
American Disabilities Act (ADA) features
Uitverkocht
SKU:

baa1c1d5f4b2
Categorie: Cisco
Gerelateerde producten
Cisco SPA508G IP 508G 508 G Telefoon met PoE voor 8 lijnen

De Cisco SPA508G IP telefoon van de Cisco SPA500 serie werkt via het SIP protocol met ondersteuning voor 8 lijnen. De telefoon wordt gevoed via PoE.

Specificaties Cisco SPA508G

8 lijnen
Display met backlit
2 x LAN 100 mbps
SIP
Cisco HD Voice
Speakerphone
Headset aansluiting
PoE ( power over ethernet )

Cisco SPA508G IP Telefoon
Met de SPA500 serie van Cisco krijgt de populaire Linksys SPA serie een flinke upgrade. Het aantal lijnen per telefoon is uitgebreid, de hardware is voorzien van een upgrade en het uiterlijk van de telefoons is verbeterd. De Cisco SPA508G is het middenklasse model van de SPA500 serie en onderscheid zit van zijn kleine broers door zijn verbeterd display

Ondanks zijn zeer scherpe prijs biedt deze SPA508G veel features waaronder een goede kwaliteit speakerphone, headset aansluiting en ondersteuning voor 8 tegelijktijdige lijnen.

Power over Ethernet
Bij de SPA500 serie kiest Cisco ervoor om alle telefoons via PoE te voeden. Hiermee kunt u eenvoudig een SPA500 telefoon aansluiten op uw PoE switch en hoeft u geen lastige voeding adapter meer te gebruiken. Dankzij de 2 aanwezige LAN aansluitingen van 100 Mbps kunt u de telefoon direct doorlussen naar uw computer waardoor u voor zowel uw PC als Cisco SPA508G maar 1 netwerkkabel hoeft aan te leggen.

Let op: Voeding niet bijgeleverd de Cisco PA-100 voeding is los te bestellen. Standaard wordt deze telefoon gevoed via PoE ( Power over Ethernet )

Merk : Cisco
BLF ( Busy Lamp Field ) : ja
Voeding bijgeleverd : Nee, los te verkrijgen
Headset aansluiting : 2,5 mm
Netwerkaansluiting : 2 x 100 Mbps
Power over Ethernet : Ja
Aantal lijnen : 8
Aantal SIP accounts : 4

€

84,65 incl. 21% BTW