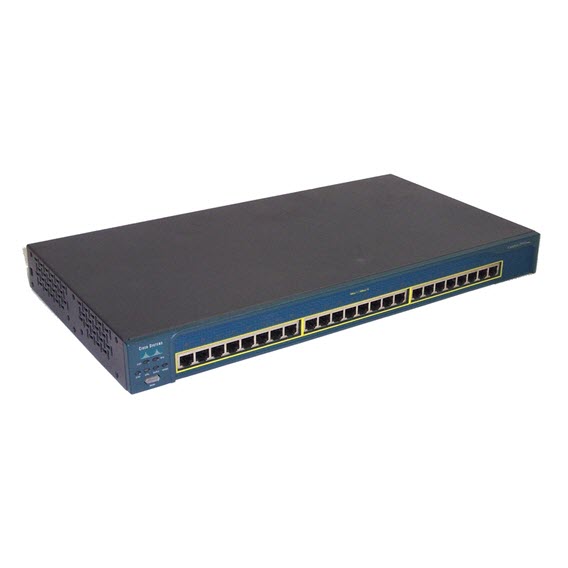 Cisco Catalyst WS-C2950-24 24 Port switch
The Cisco Catalyst 2950-24 is a member of the Cisco Catalyst 2950 Series switches, and is a standalone, fixed-configuration, managed 10/100 switch providing user connectivity for small to mid-sized networks. This wire-speed desktop switch comes with Standard Image (SI) software features and offers Cisco IOS functionality for basic data, video and voice services at the edge of the network.
Available for the Catalyst 2950 Series, the Cisco Network Assistant is a free centralized management application that simplifies the administration task of Cisco switches, routers, and wireless access point. Cisco Network Assistant offers user-friendly GUI interface to easily configure, troubleshoot, and enable and monitor the network.
24x 10/100 ports
1 rack unit (RU) standalone switch
Wire-speed desktop switches offering Cisco IOS functionality for basic data, video and voice services at the edge of the network
Standard Image (SI) software installed
Ideal for desktop connectivity
Details
Model #: WS-C2950-24
Warranty: Lifetime Warranty
Condition: Refurbished
Weight: 6.37 lbs
Port Quantity 24
Series Catalyst 2950
Rack Units 1RU
OSI Layer 2
Stacking None
Deployment Pack No
Hot Swappable Modules No
Hot Swappable Fans No
Hot Swappable Power Supply No
Energy Efficient No
PoE Compatibility No PoE
Port Speed Fast Ethernet
1 op voorraad
Extra informatie
Beoordelingen (0)