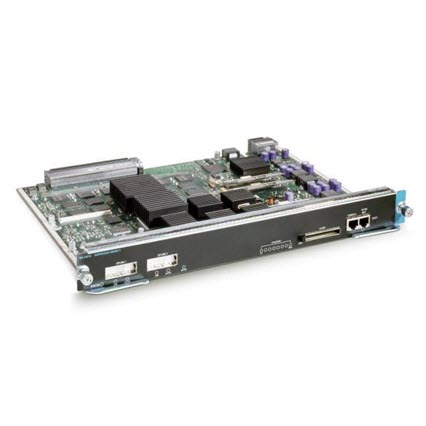 Cisco Catalyst 4500 Series WS-4515 Supervisor Engine IV
The Cisco Catalyst 4000 Family Supervisor Engine IV integrates nonblocking Layer 2/3/4 switching with integrated resiliency, further enhancing control of converged networks. Converged voice/video/data networks with high availability enable business resiliency for enterprise and metropolitan (metro) Ethernet customers deploying Internet-based business applications. As a key component of Cisco AVVID (Architecture for Voice, Video and Integrated Data), the Cisco Catalyst 4000 Family extends control from the backbone to the network edge with intelligent network services, including sophisticated quality of service (QoS), predictable performance, advanced security, comprehensive management, and integrated resiliency with Supervisor Engine IV. The modular architecture, media flexibility, and expandability of the Cisco Catalyst 4000 Family enable an extended window of deployment in converged networks. This reduces the cost of ownership by minimizing recurring operational expenses, thus improving return on investment (ROI).
The Cisco Catalyst Supervisor Engine IV delivers next-generation switching technology with proven Cisco IOS® Software to power scalable, intelligent multilayer switching solutions for converged voice, video, and data networks. Optimized for the enterprise wiring closet, branch-office backbones, or Layer 3 distribution points, the Cisco Catalyst Supervisor Engine IV provides the performance and scalability to handle today's and tomorrow's network applications. Compatible with the widely deployed Cisco Catalyst 4006 chassis, the new Cisco Catalyst 4500 Series chassis, and existing Cisco Catalyst 4000 Series switching line cards, Supervisor Engine IV ensures an extended window of deployment to further strengthen the scalability of the modular Cisco Catalyst 4000 Family.
Product Type : Supervisor Engine
Technical Information Application/Usage : Data Networking
Interfaces/Ports Interfaces/Ports Details
1 x RJ-45 Female Console Management
1 x RJ-45 Female 10/100Base-TX Management
1 x RJ-45 10/100Base-TX LAN
Media & Performance Media Type Supported : Twisted Pair
Maximum Data Transfer Rate : 100 Mbit/s
I/O Expansions Number of Total Expansion Slots : 2
Expansion Slot Type : GBIC
Processor & Chipset Processor Speed : 333 MHz
Physical Characteristics Shipping Weight (Approximate) : 8.30 lb
Miscellaneous Additional Information : Layer 2
Features:
Layer 2 hardware forwarding at 48 Mpps
Layer 2 switch ports and VLAN trunks
IEEE 802.1Q VLAN encapsulation
Inter-Switch Link (ISL) VLAN encapsulation (excluding blocking ports on WS-X4418-GB and WS-X4412-2GB-T)
Dynamic Trunking Protocol (DTP)
VLAN Trunking Protocol (VTP) and VTP domains
Support for 4096 VLANs per switch
Per-VLAN spanning tree (PVST) and PVST+
Spanning-tree PortFast and PortFast guard
Spanning-tree UplinkFast and BackboneFast
802.1s
802.1w
Spanning-tree root guard
Cisco Discovery Protocol
IGMP snooping v1 and v2
Cisco EtherChannel, Fast EtherChannel, and Gigabit EtherChannel technology across line cards
Port Aggregation Protocol (PAgP)
Unidirectional link detection (UDLD) and aggressive UDLD
QinQ pass-through
Compatibility
Cisco Catalyst 4006
Cisco Catalyst 4503
Cisco Catalyst 4506
Cisco Catalyst 4507R
5 op voorraad