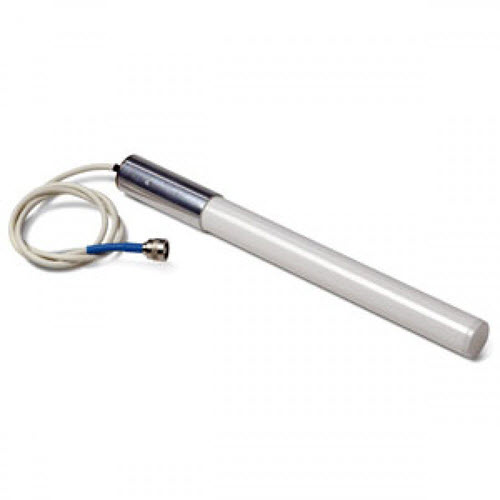 Cisco AIR-ANT5160V-R Aironet 6dBi Omnidirectional Antenna
Cisco AIR-ANT5160V-R 6-dBi omnidirectional antenna is a ruggedized high-performance colinear antenna that operates in the 5-GHz frequency range and is designed for use in large rooms or vaulted areas where extended coverage is needed. The antenna is designed to be used indoors or outdoors and can be mounted on a mast.
Productbeschrijving Cisco Aironet Omnidirectional Antenna – netwerkadapterantenne
Producttype Netwerkadapterantenne
Afmetingen (BxDxH) 2.5 cm 29.2 cm
Gewicht 0.3 kg
Directiviteit Omnidirectioneel
Versterking 6 dBi
Ontworpen voor Aironet 1100, 1130AG, 1250 Modular Unified Access Point Platform, 1252AG, 1252AG Standalone Access Point, 1252AG Unified Access Point, 1252G, 1252G Unfied Access Point, 1310 Outdoor Access Point/Bridge
Dit is een nieuw product !!
2 op voorraad
Extra informatie
Beoordelingen (0)
Gerelateerde producten
PheeNet WAS-102R Indoor WiFi Access Point

Wifi / Wireless HotSpot Gateway / Network Access Control Gateway for user management (Authentication, Authorization, Accounting), 1 WAN + 2 Public LAN + 2 Private LAN + 11g High Power AP

WAS-102R is an all-in-one / cost-effective Hot Spot in a box, which integrates 3A to Hot Spot venues can generate user accounts for a fee-based or free broadband Internet Access; Hot Spot solution specially designed for a public wireless network. It integrates Access Control and high-Speed secure Wifi / wireless connection into one system to fulfill the needs in a Hot Spot.

WAS-102R is not only a high performance wireless AAA gateway but also a powerful firewall with Denial of Service (DOS) protection. It supports 802.11g 54Mbps high-speed connection and is compatible with 802.11b standard. By connecting to more Wireless access points a Hot Spot can be easily extended with this flexible and scalable solution.

With our WAS-102R, it provides additional sources of revenues for a better Return on Investment (ROI). Your business or organization can provide customers or guests wireless Internet connection with zero configuration and bandwidth management while protecting your private network.

Features

Built-in user database provide sufficient account capacity for different operation scenarios
Works with instant account generator to provide user accounts for visitor-based, on-demand operations
Secure guest and administrator access using web-based login and administration over SSL
Standards-based encryption capabilities ensure privacy to users device
Integrated user authentication: WEP, WPA, IEEE 802.1x
Integrated access point enables Wi-Fi access and eliminates the need for additional device
Complete authentication mechanism blocks unauthenticated users from access to the network
Role-based and policy-based control policies enhances the protection against malicious users
Configurable packet filtering policies enhance data traffic security
Allows session expiration control for guest or on-demand users by time and data volume
Programmable billing profiles allow operators to customize the billing plans for on-demand users
Bandwidth control enables class of service for different levels of users and maximize profits
Detailed per-user traffic history log for analysis and record keeping
Supports various broadband options (T1, DSL, Cable) via static IP, DHCP and PPPoE
Billing report gives a summary of transaction records for on-demand users
Paypal billing system, credit card and multiple billing plans for Internet access Specification

Industrial Standard

Standard

IEEE 802.11b / 802.11g Compliant
IEEE802.3 10BaseT Ethernet
IEEE802.3u 100BaseTX Fast Ethernet

Interface

WAN:1×10/100Base-TX Ethernet port
LAN: 2 Private LAN Port, 2 Public LAN Port
1×RJ-11 Port (For Ticket Printer)

Security for Wireless

64/128 bit WEP Encryption
IEEE802.1x Client(EAP-ALS, EAP, MD5 supplicant)
WPA (TKIP, Pre-Share Key)

RF

Frequency Band

2.400~2.484 GHz ISM band

Signal Type

DSSS & OFDM

Modulation

DSSS(DBPSK,DQPSK, CCK), OFDM(64-QAM,16-QAM,QPSK,BPSK)

Antenna

Diversity Antenna with 2dBi

Sensitivity

-91dBm @1Mbps, -84dBm @ 6Mbps,
-75dBm @24Mbps,-90dBm @ 2Mbps,
-82dBm @9Mbps,-73dBm @ 36Mbps,
-89dBm @5.5Mbps,-79dBm @ 12Mbps,
-70dBm @48Mbps,-87dBm @ 11Mbps,
-77dBm @18Mbps,-68dBm @ 54Mbps,

Output Power

20dBm (100mW) /23dBm (200mW)

Channel

FCC: 11 Channels (US, Canada)
ETSI: 13 Channels (Europe)
TELEC: 14 Channels (Japan)

Software

User Management

Supports up to 50 concurrent users
Supports 500 local accounts
Supports 2,000 on-demand accounts
Provides guest accounts
Simultaneous support for multiple authentication methods (Local and On-demand accounts, POP3(S), LDAP, RADIUS, NT Domain server)
Role-based and policy-based access control
(per-role assignments based on Firewall Policies, Routing, Login Schedule, Bandwidth, Quota, and Session Time)
User Session Management:

(a) SSL protected login portal page
(b) Supports multiple logins with one single account
(c) Session idle timer
(d) Session/account expiration control
(e) Friendly notification email to provide a quick hyperlink to login portal page
(f) Windows domain single sign on
(g)Configurable login time frame

Security

Supports data encryption: WEP(64/128-bit), WPA
Supports authentication: WPA-PSK, IEEE 802.1x
(EAP-MD5, EAP-TLS, CHAP, PEAP)
Supports packet filtering policy
Supports VPN Pass-Through (IPSec and PPTP)
Supports DoS attack protection
Supports SSH Remote Management
Supports Layer 2 isolation
Supports MAC Access Control List
Configurable user Black List
Allows MAC address and user identity binding for
local user authentication

System Administration

Multi-lingual, web-based management UI
Customizable login and logout portal page
Supports SNMP v2
Remote firmware upgrade
Supports NTP time synchronization
Console CLI support
Backup and restore of system configuration

Networking

Wi-Fi standard: IEEE 802.11b/g
Supports Router, NAT mode
Supports Static IP, DHCP, PPPoE, DDNS, PPTP Dial-up
Configurable LAN ports authentication
Supports IP Plug and Play (IP PnP)
Supports Inter-subnet roaming
Built-in DHCP Server and supports DHCP relay
Supports NAT:

(a) IP/Port Destination Redirection
(b) DMZ Server Mapping
(c) Virtual Server Mapping
(d) H.323 Pass-Through

Configurable static route
Supports Walled Garden (free surfing zone)
Supports MAC Address Pass-Through
Supports HTTP Proxy
Throughput: 90 Mbps

Accounting and Billing

Provides built-in billing profiles for on-demand accounts
Enables session expiration control for on-demand accounts by time (hour) and data volume (MB)
Provides billing report on screen for on-demand accounts
Detailed per-user traffic history based on time and data volume for both local and on-demand accounts
Provides traffic history report in an automatic email to administrator

Hardware
Hardware Platform

CPU : IXP420 266MHz
RAM : 64Mb
Flash : 32Mb

Environment

Operating Temperature:5~45°C
Storage Temperature:-20~70°C
Humidity: 5% ~ 95% non-condensing

Power Supply

12VDC

LED Indicators

Power, WAN Link, LAN LAN/ACT & COL/FDX

Dimensions

248(L) X 149(W) x 47(H) mm

Certificate

FCC, CE

Inclusief PSU en Antennes

€

149,95 incl. 21% BTW