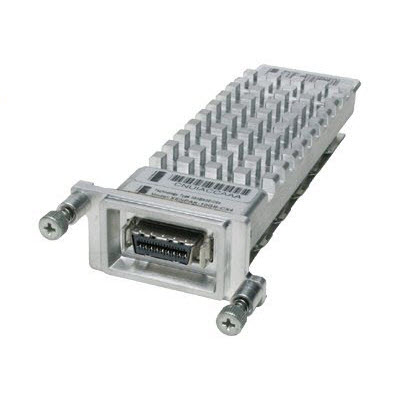 Cisco 10GBASE-CX4 XENPAK Module
The Cisco® 10GBASE X2 modules (Figure 1) offers customers a wide variety of 10 Gigabit Ethernet connectivity options for data center, enterprise wiring closet, and service provider transport applications.
Features:
-Supports 10GBASE Ethernet.
-Hot-swappable input/output device plugs into an Ethernet X2 port of a Cisco switch or router to link the port with the network.
-Provides flexibility of interface choice.
-Supports "pay-as-you-populate" model.
-Supports the Cisco quality identification (ID) feature that enables a Cisco switch or router to identify whether the module is a Cisco.certified and tested X2.
-Optical interoperability with respective 10GBASE Xenpak and 10GBASE XFP modules on the same link.
The Cisco 10GBASE-CX4 Module supports link lengths of up to 15 m on CX4 cable.
Dit is een nieuw product !!
1 op voorraad
Extra informatie
Beoordelingen (0)
Gerelateerde producten
Cisco VIC2-2BRI-NT TE Two-port Voice Interface Card

This two-port ISDN terminal-side or network-side Basic Rate Interface (BRI) voice interface card connects directly to PSTNs and PBX/PABXs and supports both on-premise and off-premise connections. Supports a total of four voice channels in a single interface card via two RJ-45 physical ports, and enables toll-bypass and voice-over-packet features.

PRODUCT DETAILS

Device Type Voice interface card

Enclosure Type Plug-in module

Protocols & Specifications ITU Q.921, ITU Q.931, ITU Q.920

Digital Ports Qty 2
System Requirements Cisco IOS
Designed For Cisco 1711, 1712, 1721, 1751, 1760, 2600, 2610, 2611, 2612, 2613, 2620, 2621, 2650, 2651, 2691, 2811, 2821, 2851, 2901, 2911, 2921, 2951, 3620, 3631, 3640, 3660, 3661, 3662, 3725, 3745, 3825, 3845, 3845 V3PN, 3925, 3945

GENERAL

Device Type Voice interface card
Enclosure Type Plug-in module

MODEM

Connectivity Technology Wired
ISDN Interface ISDN BRI
Protocols & Specifications ITU Q.921, ITU Q.931, ITU Q.920
Digital Ports Qty 2

EXPANSION / CONNECTIVITY
Interfaces 2 x network – ISDN BRI – RJ-45

Compatible Slots 1 x Expansion Slot

MISCELLANEOUS

Compliant Standards EN 60950, IEC950, UL 1950, FCC Part 68, JATE, CS-03, CSA C22.2, ACA TS031, CTR 3

SOFTWARE / SYSTEM REQUIREMENTS

COMPATIBILITY INFORMATION
Designed For Cisco 1711, 1712, 1721, 1721 VPN Security, 1751, 1751 VPN Bundle, 1760, 1760 VPN Bundle, 1760-V3PN Bundle, 2600XM, 2600XM VPN Bundle, 2610, 2610XM, 2611, 2611 VPN Bundle, 2611XM, 2611XM VPN Bundle, 2612, 2613, 2620, 2620XM, 2621, 2621XM, 2621XM VPN Bundle, 2621XM-ADSL Router Bundle, 2650, 2650XM, 2651, 2651 VPN Bundle, 2651XM, 2651XM VPN Bundle, 2651XM-V, 2651XM-V-SRST, 2691, 2811 Security Bundle, 2821 Security Bundle, 2851 Security Bundle, 2901, 2901 Security Bundle, 2901 SRE Bundle, 2901 Voice Bundle, 2901 Voice Security and CUBE Bundle, 2901 Voice Security Bundle, 2911, 2911 Security Bundle, 2911 Voice Bundle, 2911 Voice Security and CUBE Bundle, 2911 Voice Security Bundle, 2921, 2921 Security Bundle, 2921 SRE Bundle, 2921 Voice Bundle, 2921 Voice Security and CUBE Bundle, 2921 Voice Security Bundle, 2951, 2951 Security Bundle, 2951 SRE Bundle, 2951 Voice Bundle, 2951 Voice Security and CUBE Bundle, 2951 Voice Security Bundle, 3620, 3631, 3631-CO, 3640, 3640 BRI Dial Bundle, 3640 Gatekeeper, 3640 VPN Bundle, 3640A, 3640A BRI Dial Bundle, 3660, 3661, 3662, 3662 VPN Bundle, 3725, 3725 BRI Dial Bundle, 3725 PRI Dial Bundle, 3745, 3745 VPN Security Bundle, 3825 Security Bundle, 3845 Security Bundle, 3845 V3PN Bundle, 3925, 3925 Security Bundle, 3925 SRE Bundle, 3925 Voice Bundle, 3925 Voice Security and CUBE Bundle, 3925 Voice Security Bundle, 3925E, 3925E Security Bundle, 3925E SRE Bundle, 3925E Voice Bundle, 3925E Voice Security and CUBE Bundle, 3925E Voice Security Bundle, 3945, 3945 Security Bundle, 3945 SRE Bundle, 3945 Voice Bundle, 3945 Voice Security and CUBE Bundle, 3945 Voice Security Bundle

Refurbished

€

181,45 incl. 21% BTW