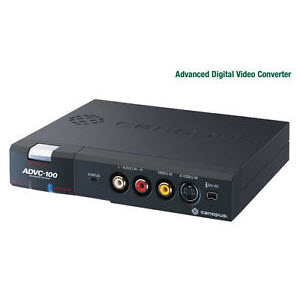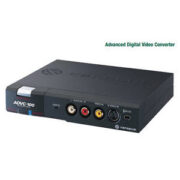 CANOPUS ADVC-100 Analog to Digital Video Converter
De Canopus ADVC-110 is een apparaat wat heen en weer converteert tussen analoge video en digitale (FireWire) video. Haal uw films de computer binnen vanuit een videorecorder, camcorder, DVD speler of zelfs de TV. Edit ze op de Mac en zet e.e.a. daarna terug op tape. Natuurlijk is dit apparaat volledig compatibel met iMovie, Final Cut Pro en Adobe Premiere, waardoor het de perfecte keuze is voor zowel de professionele gebruiker als de amateur filmmaker.
– Analoog naar FireWire video/geluid converter
– Sluit aan op de FireWire poort van de Mac
– Maakt het mogelijk om tegelijk op te nemen en te bekijken
– Maakt het mogelijk om terug te kijken op een extern video device
– Geen macrovision protecie: Captures van elke DVD speler
– FireWire kabel bijgelsoten
– Compatibel met iMovie, Final Cut Pro en Adobe Premiere
Systeemeisen: Mac met FireWire aansluiting, G3 of G4 processor, 128MB vrij werkgeheugen, Mac OS 8.6 of hoger, DV video editing software.
DV converter specialized for NLE… Convert your S-VHS, Hi8 and 8mm analog tapes to DV in one simple step using the ADVC-100. The converted DV streams are transferred to your PC or Mac via IEEE 1394 (i.Link, FireWire) and stored on your hard drive where they can be manipulated using your favorite photo or video editing applications. This device is ideal for all OHCI and DV-only capture cards for Macintosh or PC.
Proven DV CODEC Technology… The ADVC-110 features Canopus's award-winning DV codec technology, which is found in AVID's Xpress DV software and the full line of Canopus DV capture cards.
Locked Audio Support… Other converters can lose audio/video sync when converting longer segments of video. The ADVC-110 is the first inexpensive DV converter that supports locked audio when converting from analog to digital, assuring perfect audio and video synchronization.
Uitverkocht
Extra informatie
Beoordelingen (0)