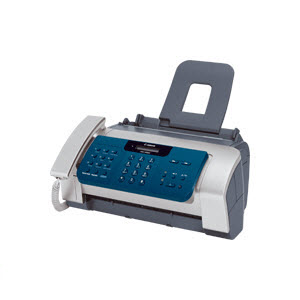 Canon Fax FAX-B820
Affordable a4 plain paper bubble jet fax
120-page fax memory for worry-free faxing
Ucantalk® unique voice recognition dialling
Ultra high quality (uhq) imaging
15-sheets # adf faxes multiple documents in one go
Ink saver mode to cut costs
Caller id feature:
Flawless faxing performance at a perfect price
Profit from affordable and efficient faxing with the fax-b820/b822. A high capacity fax memory, unique voice recognition dialling and ease of use are complemented by canon's renowned bubble jet printing quality.
More memory for worry–free faxing
A high capacity 120-page fax memory ensures worry-free faxing. All your incoming faxes are stored safely in memory should paper or ink run out during the evening or weekend – for printing out later. Also outgoing faxes can be scanned in advance, enabling labour-saving sending from memory.
Simply talk to send a fax
Voice recognition dialling increases ease and efficiency. With canon's unique ucantalk® technology, simply pre–programme the names of people you fax most often – and then sending out a fax is as simple as pushing one button and saying their name.

High quality for flawless faxing
Make sure your clients benefit from the best quality. When you're transmitting diagrams, fine text and even photos, canon's exclusive uhq (ultra high quality) image processing technology, with 64 grey scale levels, ensures great depth and clarity. You can even use your fax as a copier, capturing details accurately.
Costs saving features
Transmission time is a fast 6 seconds per page, to help cut down your phone costs. Furthermore, a special ink saver mode allows you to almost double the amount of pages you can receive reducing ink costs.
Quick and easy operation
A 15-sheets # adf (automatic document feeder) allows you to send large faxes more easily, without the need to split them. 9 one-touch and 70 coded keys accelerate operation for all the numbers you call most often. A clear control panel ensures easy faxing and phone numbers for incoming calls are clearly shown on the lcd display and stored in memory for quick redialling. An external answering machine can be easily connected to the fax-b820/b822 and a built-in handset enables convenient telephone use.
Stylish and compact
Attractive in any surroundings, this stylish and compact fax machine fits neatly on the smallest desktop. You save on installation space and can be sure of high quality faxing and sheer simplicity.
Dit is een nieuw product !!
Uitverkocht
Extra informatie
Beoordelingen (0)