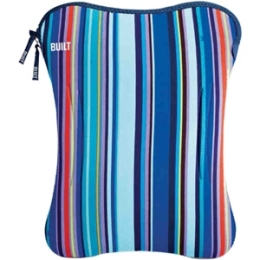 Built NY 16 inch Laptop Sleeve Bowery Stripe E-LS16-BST
Are you a Plain Jane….or a Boring Bill maybe? Well the BUILT NY range of cases will be no good for you then!
No seriously, the BUILT NY rage of netbook and laptop bags are the coolest on the market, and definitely can't be accused of being dull, they come in a range of crazy colours and patterns so that you're sure to stand out from the crowd…..
This BUILT case offers protection without bulk, and fits into backpacks, totes, or luggage. and the checkpoint friendly design lets you go through airport security with the netbook inside the sleeve.
BUILT neoprene sleeves are designed to fit Macs and laptops up to 16″ and are made from protective neoprene material that's machine washable and stain resistant.
Features
Stretches to custom fit a range of 1516 inch laptops
Made from protective neoprene (the wetsuit material)
Proprietary hourglass design secures laptop in place
Shark Gill Grips on the side allow easy insertion and removal of laptop
Checkpoint friendlyplease ensure only laptop is in sleeve for screening
Stain resistant
Machine wash cold, drip dry
Dimensions: W 35.6cm X H 42.5cm X D 2.5cm
Dit is een nieuw product !!
3 op voorraad
Extra informatie
Beoordelingen (0)