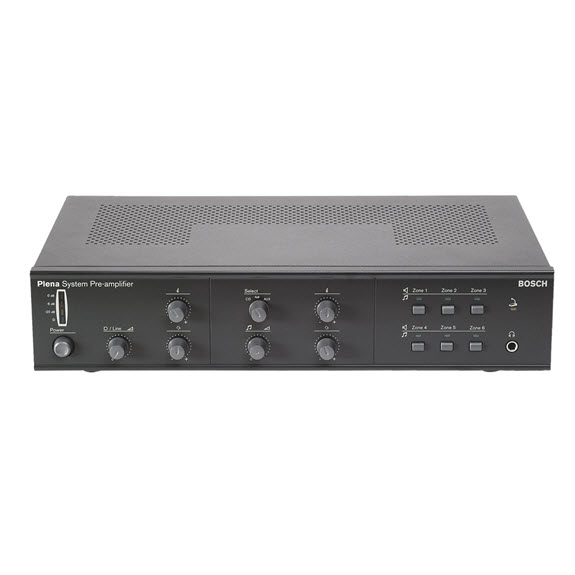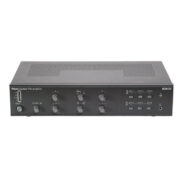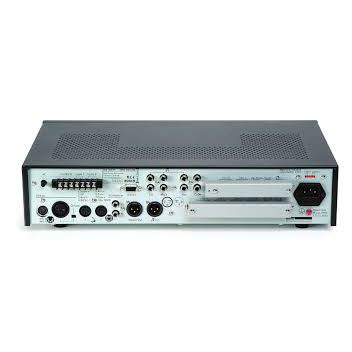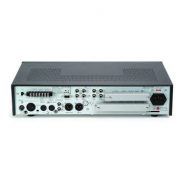 Bosch LBB1925/10 Plena System 6 Zone Pre-amplifier
MIXER PRE-AMPLIFIER BOSCH LBB-1925
• 6-zone system pre-amplifier, withsingle or dual channel operation
• Two inputs for call stations
• Universal input for microphone/line, with speech optimized tone control
• Three inputs for BGM selectionand music optimized tone control
• Front panel zone selection forBGM and call station zone selection for calls
• PC and trigger inputs for automated calls, alarm tones and chimes to selected zones.
The Plena system pre-amplifier is a high-performance, versatile call and BGM (background music) mono preamplifier, capable of fulfilling a wide variety of public address requirements. It provides dual channel operation for calls and BGM simultaneously for up to a maximum of six different zones, using two Plena booster amplifiers. In addition, single channel operation is possible with only one Plena Amplifier.
Functions
The call channel provides two inputs for Plena call stations, LBB 1941/00 (all-call) or LBB 1946/00 (6-zone), with loopthrough capability, and a universal balanced input, having the choice of a 3-pin XLR connector for microphone or line level (selectable), or a 5-pin DIN-connector with all-call priority contact, which may also start one of the available chime attention signals. The microphone input has a selectable speech filter for improved intelligibility, a volume control, and bass and treble tone controls with shelving characteristics optimized for speech. The call channel is available on the balanced XLR master output.
The BGM channel provides three inputs on stereo Cinchconnectors, converted to mono, with front panel selection, volume control and bass and treble tone controls with shelving characteristics optimized for music. The BGM channel has a direct output on balanced XLR for dual channel operation. It can also feed the master output, with the lowest priority, for single channel operation. The routing of BGM can be selected by means of zone selector switches on the front panel.
An emergency/telephone input with signal level detector (VOX) and rear volume preset may detect an audio signal and has the highest priority to all zones. Two trigger inputs (contact closure) control alarm or time signals to selectable zones. Many different chine tones are available for selection. Furthermore, a PC audio input with RS-232 control has been provided for PC control of zones or automatic messaging in combination with the Plena message manager. There are six levels of priority available for BGM, microphone, call stations, trigger inputs and emergency input. The LBB1925/10 has a set of relays for zone-switching the power amplifier output(s) to different loudspeaker groups. Each of the zones can be switched between the call channel (upon call-station selection or all-call microphone or emergency activation), the BGM channel (upon front panel selection), or off.
Main voltage: 220 V ac, +-15%, 50/60Hz.
Max mains power consumption: 50VA.
Battery voltage: 24 V dc, +-20 – 10%.
Max battery current: 1A.
Frequency respone: 50Hz – 20kHz (+1/-3 dB).
Distortion: <0,5%(1kHz).
Call channel:
Bass control: -6/+6 dB at 160Hz.
Treble control: 0/+12 dB at 5kHz.
Input mic/line sensitivity: 500 mV (CD), 200 mV (aux, tape).
Inpedance:>1k (mic), >5k (line). CMRR: & gt;40 dB.
Phantom power supply: 16 V via 1.2k microphone mode only.
Priority: >50 dB.
Call station inputs: 8 pin DIN, balanced, for LBB1941 and or LBB1946.
Mic/line inputs: 3-pin XLR/5 pin DIN, balanced.
S/N ratio: >70 dB.
BGM: PC input: cinch. 2xmono.
Headphone output: 6.3mmjack stereo, signal mono.
Control: RS 32(9 pinD sub).
Channel separation: >65 dB @ 1 kHz.
Outputs master: 1V (<100).
Relays priority contacts included.
Dimension:  100 x 430 x 270mm (19″ wide, 2U high).
Weight: approx. 5kg
Uitverkocht
Extra informatie
Beoordelingen (0)