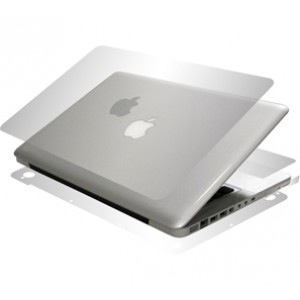 BodyGuardz MacBook Pro 17 inch (model 2006)
Uitgebreide Omschrijving
Clear Skins Full Body Protection:
Durable, Ultra-thin, Clear Protectors
Custom Designed
Advantage Replacements
BodyGuardz Clear Skins is the ultimate MacBook Pro 17" (model 2006) full body protector. It is made from the same material used to shield the front of vehicles from rock chips and provides your device with unmatched scratch protection from outside elements.
These invisible protectors are tough and durable and are custom designed to fit your MacBook Pro 17. They will keep your device scratch-proof and are available in two versions: Clear Skins and Clear Skins Dry Apply (not available for all devices).
After simple installation, Clear Skins not only offers the best coverage for the body of your MacBook Pro 17 , but is also optically clear to preserve its beauty and design. You won't find a better cover, shield, skin, screen protector, or case than BodyGuardz Clear Skins for your MacBook Pro 17.
Additionele Informatie
Productcode NL-BM7U-0309
EAN : 878966006738
Merk BodyGuardz
Artikel BodyGuardz MacBook Pro 17 inch
Connectiviteit Geen informatie beschikbaar
Materiaal Plastic
Kleur Transparant
Geschikt voor MacBook Pro 17 inch (model 2006)
Dit is een nieuw product !!
12 op voorraad
Extra informatie
Beoordelingen (0)