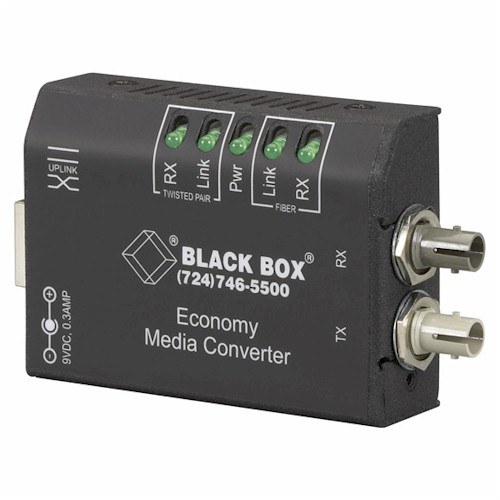 Black Box LE1505A Crossover Fiber Media Converter Duplex Multimode ST
2 op voorraad
Beschrijving
Extra informatie
Productbeschrijving
10BASE-T/10BASE-FL Multimode ST
Don't repin cable-just flip a switch.
Use the built-in uplink switch to configure the UTP port: straight through or crossover!
10BASE-T/ThinNet, 10BASE-T/fiber, or 100BASE-TX/fiber.
Compact size enables you to tuck them into small spaces.
Mount multiple units in the optional Rackmount Tray. Economy Crossover Media Converters enable you to translate between twisted-pair and ThinNet or twisted pair and fiber. Just flip a switch to convert cable. The crossover feature is built-in, so the conversion takes place automatically-and you don't need to worry about the expense or hassle of using external crossover cables. Choose from 10- and 100-Mbps models. You can use the 100-Mbps converters with autosensing switches. The 10BASE-T/ThinNet model has an internal BNC termination switch and operates with collision detection and indication. The converters are small enough to fit in the palm of your hand, so they take up very little space. For rackmounting, order the Rackmount Tray (LE1505-RACK) or the Powered Rackmount Tray (LH1505P-RACK). Each Rackmount Tray holds up to 16 media converters, and the powered model supplies power for up to 8 media converters. Or you can Velcro mount them or use metal brackets to wallmount them wherever you want-we include both of these items with the Economy Crossover Media Converter.
Distance (Maximum) – LE1505A: 2 km (1.2 mi.);
Network Standards – 10BASE-T: IEEE 802.3, 802.2;
Operation – LE1505A: Half- or full-duplex;
CE Approval – Yes
Indicators – LE1505A: PWR, JAB; UTP: COL, RX, POL, LINK; BNC: COL, RX;
Power – 95-125 VAC, 60 Hz, external
Size – 3.5″H x 3″W x 1″D (8.9 x 7.6 x 2.5 cm
Weight – 0.3 lb. (0.1 kg)
inclusief voeding