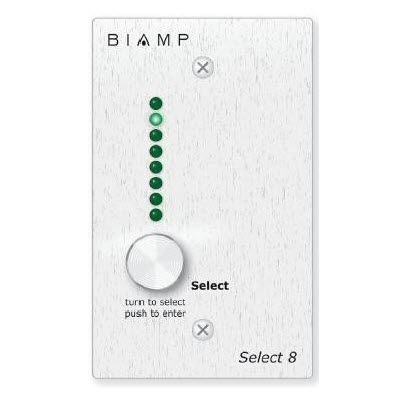 Biamp Select 8 for Audia and Nexia
The Select 8 control panel provides a push-button rotary encoder and LED indicators, mounted on a single-gang brushedaluminum electrical plate. The control panel fits most standard US single-gang back-boxes (available separately). The control panel provides programmable remote control of selection functions for Biamp's Audia or Nexia products.
Features:
initiation of eight selectable system actions
actions are any individual or grouped system operation
actions include presets, mutes, ducking, combining, etc.
Uitverkocht
Extra informatie
Beoordelingen (0)
Gerelateerde producten
KORG MA-1 BLBK metronoom zwart-blauw

De ma-1 van korg is alles wat u van een metronoom mag verwachten. Het tempo is in te stellen van 30 tot 252 bpm waarbij u kunt kiezen voor verschillende ritmes. Dankzij de 0,5 w 23mm speaker heeft u een duidelijke klik of tik. Wanneer dit niet voldoende is kunt u desgewenst ook een hoofdtelefoon aansluiten. De metronoom werkt op twee meegeleverde aaa-batterijen en weegt slechts 71 gram.

Productkenmerken

gewicht (incl. Verpakking): 100 gr
afmeting (incl. Verpakking): 16,0 x 8,5 x 2,0 cm
soort metronoom: digitaal
tempo-bereik: 30 – 252 bpm
clip-on constructie: nee
ingebouwd stemapparaat: nee
luidspreker ingebouwd: ja
hoofdtelefoonuitgang: ja
kleur: zwart / blauw

Dit is een nieuw product !!

€

11,95 incl. 21% BTW