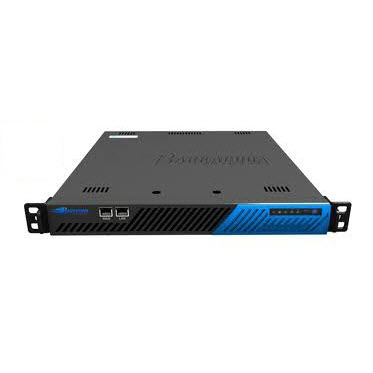 BARRACUDA IM Firewall 220
The Barracuda IM Firewall is the first complete IM solution to provide both IM Server and IM Gateway technologies to help organizations secure, log, and manage the use of instant messaging on their networks.
The Barracuda IM Firewall is easy to set up and rollout to your users. Installing a unit inline takes just minutes. Once connected, all public IM traffic is captured and logged to an internal database. With an intuitive user interface for maintenance and monitoring, the Barracuda IM Firewall is a virtually administration-free solution.
Energize Updates
Barracuda Energize Updates provide Barracuda Networks appliance with the protection from the latest Internet threats. The team at Barracuda Central continuously monitors the Internet for new trends in network security threats and develops strategies to mitigate those threats. Depending on the appliance, Energize Updates include the appropriate definitions for spam, virus, content categories, spyware filter, intrusion prevention, IM protocols, policies, security updates, attacks and document formats. Updates are delivered on an hourly basis to ensure you always have the latest definitions and the most comprehensive protection.
Barracuda Energize Updates subscriptions is a reoccuring fee and must be purchased with any new Barracuda Networks appliance to provide complete protection from the latest Internet threats. Energize Updates subscriptions also provide:
Basic Support which includes email support 24×7 and phone support between the hours of 9 am and 5 pm Monday through Friday Pacific time.
Firmware Maintenance which includes new firmware updates with feature enhancements and bug fixes as they are made available.
Security Updates to patch or repair any security vulnerabilities.
Optional participation in the Barracuda Early Release Firmware program
Extra informatie
Beoordelingen (0)
Gerelateerde producten
Cisco SA 520 SA520 Security Appliance Firewall

De Cisco SA 520 Security Appliance is het basis model van de Cisco SA 500 Serie. De stabiele Cisco firewall kan worden ingezet in klein zakelijke netwerkomgevingen waar een stabiele gateway een vereiste is.
De SA 520 Security Appliance is snel, krachtig en beschikt over een een hoop standaard mogelijkheden:

200Mbps Stateful Throughput
Gigabit Interfaces
50 IPSec VPN Tunnels
2 SSL VPN tunnels
USB Poort
Firewall
URL Filtering
Load Balancing
Razendsnel!

De modellen uit de Cisco SA500 serie zijn razendsnel! De SA520 heeft een stateful doorvoersnelheid van 200Mbps en Cisco claimt dat ook de UTM snelheid net zo hoog is! Dit zijn unieke prestaties waarmee Cisco goed voor de dag komt.
Naast de snelle WAN aansluiting, is de Cisco SA520 ook nog eens uitgerust met 4 snelle Gigabit LAN poorten. Dankzij deze 1000Mbps ethernet interfaces kunt u uw snelheid optimaal benutten. Interne en externe data overdrachten zullen ongekend snel zijn!

Extra WAN/LAN/DMZ
Op de firewall zit er naast de LAN en WAN poorten ook een extra netwerkinterface op het apparaat. U kunt deze poort zelf toewijzen aan een Local of Wide area. Ook is het mogelijk om er een DMZ poort van te maken. U bepaalt dus zelf wat de functie van deze extra poort zal zijn.

Load Balancing en WAN failover
Omdat er een zelf definieerbare poort op de SA520 zit, en u hier een WAN poort van kunt maken, is het mogelijk gebruik te maken van Load balancing en WAN failover. Deze twee opties zijn zeer interessant voor ondernemingen die werken met twee inkomende verbindingen.

Met Load balancing maakt u gebruik van inkomende lijnen. De eerste lijn (WAN1) regelt bijvoorbeeld al het reguliere internet verkeer en de tweede lijn (WAN2) draagt zorg voor bijvoorbeeld al het VoIP ip. U kunt zelf uw regels toepassen en de mogelijkheden vergroten.

Met WAN Failover is het mogelijk om een tweede lijn als back-up te gebruiken als de algemene internetverbinding uitvalt. Dit gaat geheel automatisch. U kunt zorgeloos online blijven zonder dat u ooit nog zonder internet komt te zitten.

VPN
De SA520 beschikt ook over een VPN server. U kunt tot maar liefst 50 IPSec verbindingen maken en 2 SSL VPN tunnels. De mogelijkheden tot het koppelen van bedrijven, medewerkers en thuiswerkers aan de bedrijfsserver zijn enorm groot. Cisco maakt ook gebruik van de meest geavanceerde VPN encrypties zodat de VPN verbinding waterdicht is.

Firewall
De Cisco SA520 is en blijft natuurlijk een firewall. Cisco heeft het apparaat dus uitgerust met een hele hoop firewall mogelijkheden zoals URL filtering, Anti Spam, Anti Virus en Intrusion Prevention. Het apparaat kan volledig als UTM fungeren zonder dat er veel snelheidsverlies is. Voor sommige firewall opties is een licentie vereist. Neem hierbij contact op met ons via sales@vritualsecurity.nl

Firewall Specificaties

80 URL filtering categorieen
Meer dan 3 miljoen bekende virus signatures
Meer dan 420.000 spyware signatures
Antispam Protection
Web Threat Protection

Optioneel:

Support 8×5 & 24×7
Wireless
Meerder jaren support

€

169,95 incl. 21% BTW