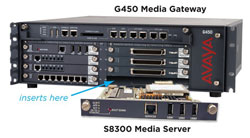 Avaya S8300C ICC/LSP C V2 Media Server S8300 4G
The S8300 Server with a G700, G450,G350 or G250 Media Gateway provides a flexible solution for growing companies to streamline voice and data operations over one networked infrastructure. It can be a standalone solution for a small business or a remote edge device for a larger enterprise network with 8 to 450 stations.
What's New With This Release
The Avaya S8300 Server is a media module that slides into a G250, G350, G450 or G700 Media Gateway. In addition to acting as the main controller, the S8300 also can be used as a local survivable processor (LSP). With Communications Manager Release 5.1, the S8300 messaging application supports IMAP4 Internet Message Access Protocol.
Business Benefits
Increase productivity by providing advanced headquarters functionality to remote locations.
Maximize communication uptime with fully survivable gateways.
Reduce overall costs by leveraging existing communications infrastructure.
Save time and money by managing all sites from a single system interface.
Simplify installation with an integrated messaging solution.
Specifications Summary
Form Factor
Simplex Blade that resides within media gateway slot
Avaya Media Gateways Supported
G700
G450
G350
G250
IG550
Operating System
Linux
Processor
Intel Celeron 600Mhz, 4GB Solid State, 1GB RAM, 40GB Harddisc
Number of Stations
Up to 450 IP, digital, analog
Trunks
Up to 450
Busy Hour Call Completions (BHCC)
Up to 10,000
Networking
50 media gateways (G700, G450, G350, IG550 & G250)
Hot Swappable : No
Duplication (Shadowing) : No
Survivability : Yes
Redundancy : No
ESS : No
LSP : Yes
Electrical Requirements : 110V
1 op voorraad
Extra informatie
Beoordelingen (0)