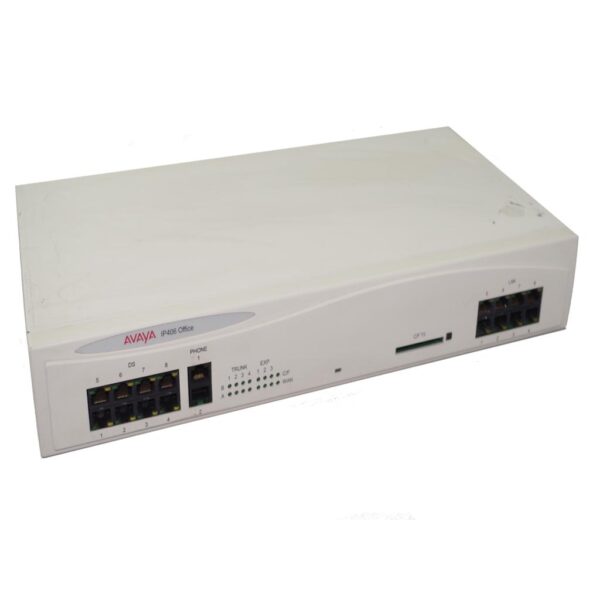 Avaya Lucent IP406 Office DS V2 A-LAW BRI 700343536
1 op voorraad
Beschrijving
Extra informatie
Productbeschrijving
The Avaya IP406 V2 is a versatile and expandable system which utilises the full functionality of IP Office features. This unit supports 6 expansion modules providing a combination of up to 190 analog and digital telephones (of the 190, up to 180 telephones can be IP), with capacity for 8 analog trunks or 3 digital trunks (72 T1/PRI channels and 90 E1 channels). Additional analog trunks can be provisioned using the IP400 Analog Trunk 16 module. Additionally, SIP trunks are supported.  Features
Eight Digital Station (DS) ports for 24xx, 44xx, 54xx and 64xx Series phones (plus 3810 and 9040).

Two Analog telephone ports.

Eight 10/100 Mbps LAN Switched ports (layer-2).

Support for optional embedded voicemail/auto-attendant (Compact Flash card)

9-pin DTE Port (for maintenance or serial dongle connection for PC-less licensing).

X.21/V35 WAN interface.

Support for 6 Expansion Modules.

Two relay switch port for door entry systems (Ext O/P socket).

Audio port for external music on hold source.