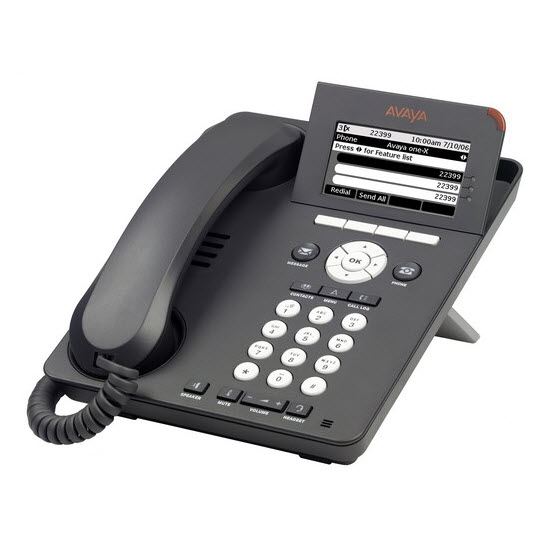 Avaya 9620 9620L IP telefoon
The Avaya 9620 Telephone is specifically designed for the everyday telephone user – who rely on multiple communications tools such as e-mail and IM, yet still require a high quality and intuitive telephone for voice communications.
The Avaya 9620 features an intuitive interface with a bright backlit display and several LED lights and buttons to explicitly convey status to the end user. Like all Avaya 9600 telephones, the 9620 features high fidelity audio, flexible support for add-ons in the future, all within a very stylish and professional design.
The unique high-fidelity acoustics of the Avaya 9620, including a full duplex speaker and wideband audio in the handset, deliver industry-leading audio that minimizes ambient noise. With the enhanced audio across high and low frequencies, it is easier for users to better understand others with different speech nuances or accents. Because of the enhanced audio, calls are more productive, team members are better able to collaborate. On conference calls, users find it easier to distinguish and understand multiple speakers, aiding in collaboration and communications. Overall, communications are richer.
Backlit display 3.45 inch diagonal QVGA quality gray-scale pixel based with adjustable display angle
9620C supports a ¼ VGA color display
Full duplex speaker phone
Ergonomic wideband hearing aid compatible handset supporting TTD acoustic coupler
Two message waiting indicators
Flip-stand/dual position
Wall mount kit available
Four way navigation cluster button
Four contextual softkey buttons
Volume button (separate volume levels in the handset, speaker, and ringer)
Avaya Menu button (browser, options and settings access)
Message button (LED)
Telephony application (hard button)
Mute button (LED)
Speaker button (LED)
Headset button (LED)
Contacts button
Call log button (LED)
Ethernet (10/100) line interface with secondary Ethernet interface
PoE 802.3af compliant class 2 device (auxiliary power available)
Adapter interface (except 9620L)
USB interface – supports USB 1.1 compatible thumb drives for personal contacts (except 9620L)
Headset Interface
The Avaya 9620 features an improved, higher resolution display – supporting 1/4 VGA gray scale with backlighting. A four way navigation button cluster is another new addition to the Avaya 9620 – providing a familiar, cell phone-like interface for navigation and feature selections for the everyday user. The new design facilitates better usage of the display and the built in browser to improve access to information and use of telephone features.
Toestellen zijn zo goed als nieuw in zeer nette staat !!
57 op voorraad
Extra informatie
Beoordelingen (0)