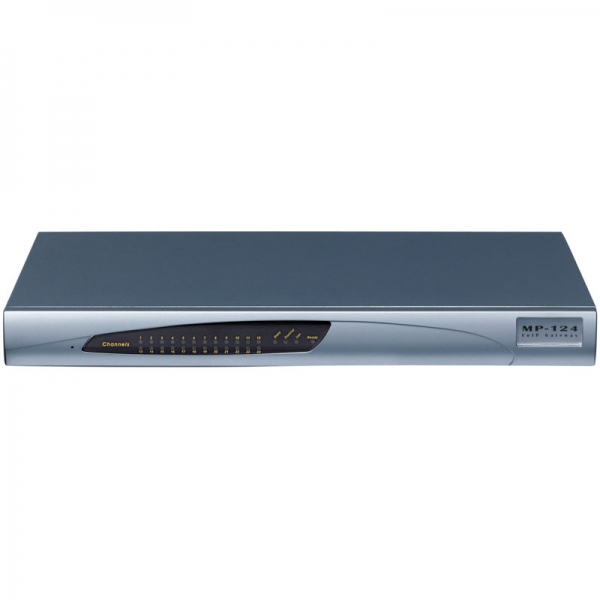 AudioCodes MediaPack Series MP-124 VoIP Gateway
AudioCodes' MediaPack 1xx series of Analog VoIP Gateways are cost-effective, stand-alone VoIP gateways that provide superior voice technology for connecting legacy telephones, fax machines and PBX systems with IP telephony networks and IP-based PBX systems. The MediaPack 1xx series gateways support a wide variety of service provider and enterprise applications:
– Service providers can use MediaPack gateways to connect Multi-Tenant Units (MTUs), IP Centrex subscribers, payphones, and rural users over wireless and satellite links
– Enterprises can use MediaPack gateways to connect their legacy PBX systems over an IP infrastructure. In addition, in IP Centrex and central IP-PBX applications, MediaPack enhances remote location availability and provides Stand Alone Survivability (SAS) when there is no IP connection between branch locations and a central SIP server, SIP proxy or central IP-PBX
The MediaPack 1xx gateways are fully interoperable with leading softswitches, SIP servers and H.323 systems.
Features
– Support for 2 to 24 analog ports
– T.38 fax compliant
– Rich subscriber feature set: 3-way conference with local mixing, call pickup, hunt groups, call forwarding, call hold and call transfer
– Echo cancellation, jitter buffer, voice activity detection (VAD) and comfort noise generation (CNG)
– Complies with MGCP, H.323v4 and SIP control protocols
Benefits
– Leverage investment in existing analog telephone, modem, and fax systems easing VoIP migration
– Lifeline for fallback to PSTN for E911 (Emergency number PSTN breakthrough) or upon network/power failure (FXO and/or FXS configurations)
– Standalone Survivability (SAS) keeps your business running in the event of a network failure
Specificaties
Protocollen
Beheerprotocollen BootP, DHCP, TFTP, HTTP, DHCP, EMS, SNMP V3
Beveiliging
Ondersteunde beveiligingsalgoritmen HTTPS, SRTP, SSL/TLS
Netwerk
Bekabelingstechnologie 10/100Base-T
Verbindingsmogelijkheden
Aantal Ethernet LAN (RJ-45)-poorten 1
Gewicht en omvang
Afmetingen (BxDxH) 445 x 269 x 44 mm
Gewicht 1,8 kg
Energie
Frequentie 50/60 Hz
Ingangsspanning 100 – 240V
Eisen aan de omgeving
Temperatuur, in bedrijf 5 – 40 °C
Temperatuur bij opslag -20 – 85 °C
Relatieve luchtvochtigheid, in bedrijf 10 – 90 procent
Technische details
Interface 24 x FXS
Stemcodecs G.711, G.722, G.723.1, G.726, G.729A, G.729B
Inclusief AC-adapter
Verlichting/Alarminstallaties
Certificaten
Veiligheid EN60950-1
Certificering EN55022, CFR, EN55024, EN61000-3-3, EN61000-3-2, VCCI Class X1
Uitverkocht
Extra informatie
Beoordelingen (0)