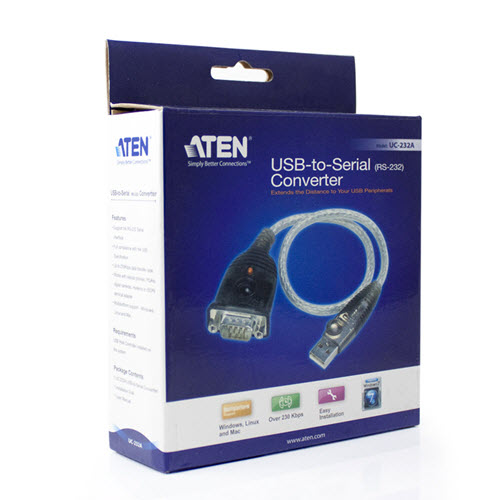 Aten UC232A USB-to-Serial Converter
Aten UC232A USB-to-Serial Converter
UC232A is a USB to serial port converter. It provides PCs, notebook PCs and handheld computing devices using USB an external PnP RS232 port.
The UC232A now supports Android 3.2 and above. To download the UC232A App from the Android Play Store, use the search term "UC232A".
Package Contents
1x USB-to-Serial Converter
1x Driver Disk
1x User Instructions
Features
Support the RS232 Serial interface
Full compliance with the USB Specification
Up to 230Kbps data transfer rate
Works with cellular phones, PDAs, digital cameras, modems or ISDN terminal adapter
OS Compatibility: WIN98, WIN ME, WIN 2K, WIN 2003, WIN XP, WIN Vista, WIN 7, WIN 8, LINUX and Mac OS 8.6/9/10.
Dit is een nieuw product !!
Uitverkocht
Extra informatie
Beoordelingen (0)