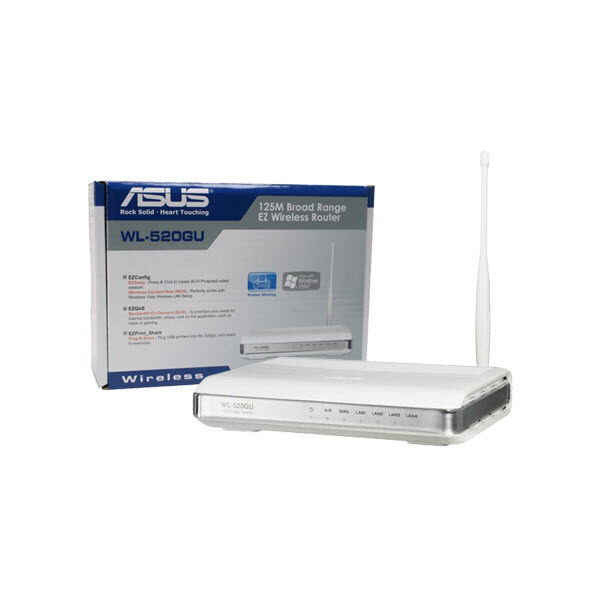 ASUS WL-520GU Wireless Router
EZ Wireless Router with All-in-One Printer Server
G Series Wi-Fi Router
All-in-One Printer Server: Wirelessly and simultaneously share printing and scanning functions for multiple users
Auto-detection and New EZ UI (Easy User Interface): delivers the easiest and fastest way to setup your router.
EZ QoS – Powerful and easily-operated BOD (Bandwidth On Demand) streamlines your Gaming/Audio/Video experience.
Dit is een nieuw product !!
4 op voorraad
Gerelateerde producten
Thomson TG789vn WL VDSL2 Wireless-n Modem (PSTN) Router

Thomson TG789vn WL VDSL2 Wireless-n Modem (PSTN)/Router 4xEther 2xFXS 1xFXO 2xUSB2.0
De Thomson TG789n is het nieuwste VoIP Business VDSL Gateway modem van Thomson.

Bent u opzoek naar een goed vervangend apparaat voor de KPN ExperiaBox/ Multi pc modem? Dan adviseren wij u de Draytek Vigor 2850-serie.

De Thomson TG789n Business is een nieuw en uniek Voice over IP modem die VDSL2 connectivity ondersteunt. Daarnaast beschikt de 789n over de nieuwste Voice over IP functies voor business gebruikers.
De Thomson TG789n bevat 4 ethernet ports, een 802.11b/g/n draft 2.0 wireless LAN interface en detecteert automatisch een VDSL of ADSL2 connectie. Daarnaast heeft de TG789 ook een Gigabit Ethernet WAN Port, zodat de TG789 ook als service gateway in gezet kan worden bij bedrijven.

VDSL ondersteuning
4 10/100 Ethernet poorten
2 USB 2.0 poorten voor netwerkhardeschijf of DECT-Dongel
2 FXS ports
Full FXO
Beheer op afstand
Wi-Fi Protected Setup
Innovatief design

VDSL Ondersteuning
De TG789 is één van de eerste modems die de nieuwe VDSL techniek ondersteund.
VDSL is de snellere opvolger van ADSL2+. VDSL bereikt een snelheid van maximaal 40Mbit en kan alleen gebruikt worden met speciale VDSL modems.

Future Proof Design
Dankzij een groter geheugen bevat de Thomson TG789 nieuwe, geavanceerdere software. Dankzij deze software is het mogelijk allerlij applicaties te integreren. Het design van de Thomson TG789 is volledig aan te passen, bijvoorbeeld de kleuren en de logo's van het display.

Media Sharing
De Thomson TG789n Business kan gebruikt worden als centraal hub voor de distributie van alle content van ieder media apparaat. De TG789n streamed muziek, data, foto's en videos naar elk apparaat die verbonden is met de Thomson TG789n.

Easy is Key
De Thomson TG789n is gemakkelijk in gebruik dankzij "plug&play" en de home installatie wizard. Met een druk op de knop is de TG789n geinstalleerd en klaar voor gebruik!

The Ultimate in Ultra-Broadband
De Thomson TG789n is een VDSL2 modem met Gigabit Ethernet, wat inhoudt dat hij hoge bandbreedte levert. Dit komt de voice, data en video doorvoer ten goede! Daarnaast bevat de Thomson TG789n de 802.11n technologie, welke zorgt voor de hoogste draadloze snelheid.

Voice over IP
De Thomson TG789n bevat 2 telefoon aansluitingen voor telefoon en fax en ondersteund Voice over IP.
U kunt uw analoge telefoons inpluggen in de FXS poorten zodat deze Voice over IP gaan bellen. Met VoIP is het mogelijk om goedkoper te bellen dan over een analoge lijn.

Unieke Voice over IP features
Naast alle standaard VoIP features bevat de Thomson TG789n een aantal unieke voice features:

Home Phone Assistance: een automatische service welke de gebruiker informeerd over de aanwezige voice services
Voice to Email: De gebruiker ontvangt een email als er een voicemail bericht achter gelaten is
Answering Machine Service

€

17,95 incl. 21% BTW