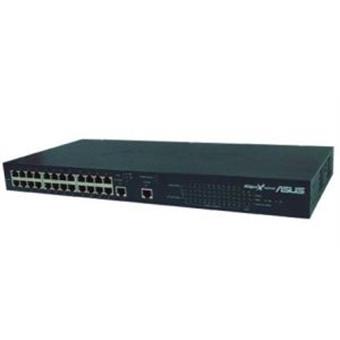 ASUS 24 ports +2xGiga L2 Smart Switch GX1024P
Short description ASUS GigaX 1024P:
GigaX 1024P, 24 RJ-45 10/100Mbps, 2 RJ-45 Gigabit, Auto MDI/MDIX
Short summary description ASUS GigaX 1024P:
ASUS GigaX 1024P, L2, Managed, 26, 24, IEEE 802.3, 8000 entries, 10/100/1000 Mbps
Long summary description ASUS GigaX 1024P:
ASUS GigaX 1024P. Switch layer: L2, Switch type: Managed. Basic switching RJ-45 Ethernet ports quantity: 26, 24. Networking standards: IEEE 802.3. MAC address table: 8000 entries, Supported data transfer rates: 10/100/1000 Mbps, Switching capacity: 8.8 Gbit/s. Weight: 2.2 kg
Marketing text:
The Perfect Solutions for SMBs.
GigaX1024P is a layer 2 smart switch for deploying SMBs network. Superior then GigaX1024, GigaX1024P provides with 2 extra Gigabit ports
and ASUS CNM (Web-based centralized network management), which makes it the Smart Choice for MIS professionals. The non-blocking wire-speed switching in a 19″ form factor that fits in the standard 19″ rack and is just as easy on a desk due to its compact design. The plug and play design, Auto MDI/MDIX and Auto speed and duplex mode negotiation functions ensure a more reliable, trouble-free network.
Features:
Non-blocking Wire-speed Architecture Ensures the maximum performance for every port on your ASUS switch, thus maximizing Network performance and productivity.
1000Base-T RJ-45 Copper Gigabit ports Obtain 1000Mbps speed for your Network using your existing Category 5 cabling, no need to fuss with complicated fiber.
Extra secure posts on mounting brackets Extra posts on our mounting brackets provide extra support for Switch mounting.
Fan-less Design Protect the peace and quiet of your working environment with our fan-less design switches.
Auto negotiation and auto MDI/MDIX Automatically detects and adjusts for speed and duplex state Auto MDI/MDIX allows you to use either straight-thru or crossover cables whether you are connecting to PCs or uplinking to another switch.
Easy to Read Diagnostic LEDs Easily obtain connection link status, speed information on the Informative LEDs of the switches.
CNM management software.
Provides advanced management capabilities.
Easily configure advanced management features as: Port speed and duplex; VLANs; Link Aggregation; CoS and QoS Prioritization; Broadcast and Multicast filtering; Bandwidth Control; View history.
Management features
Switch layer* L2
Switch type* Managed
Quality of Service (QoS) support Yes
Web-based management Yes
System event log Yes
Ports & interfaces
Basic switching RJ-45 Ethernet ports quantity* 26, 24
Gigabit Ethernet (copper) ports quantity 2
Networking
Networking standards* IEEE 802.3
Full duplex Yes
Flow control support Yes
IGMP snooping Yes
Auto MDI/MDI-X Yes
Data transmission
MAC address table* 8000 entries
Supported data transfer rates 10/100/1000 Mbps
Switching capacity* 8.8 Gbit/s
Store-and-forward Yes
Colour of product * Black
Number of VLANs 32
Maximum data transfer rate 1 Gbit/s
Design
Safety U*L1950, TUV
Certification FCC 15 Class A, CE
Performance
Power
Power consumption (typical) * 12 W
Input voltage 90 – 240 V
Power over Ethernet (PoE)
Power over Ethernet (PoE) support * Yes
Operational conditions
Operating temperature (T-T) 0 – 40 °C
Storage temperature (T-T) -25 – 70 °C
Relative humidity 5 – 95 %
Weight & dimensions
Other features
Dimensions (WxDxH) 44.4 x 20 x 4.4 mm
Connectivity technology Wired
Bundled software ASUS CNM
Power supply type AC
Connectivity LEDs Yes
Remote administration Yes
Input frequency 50/60 Hz
Uitverkocht
Extra informatie
Beoordelingen (0)