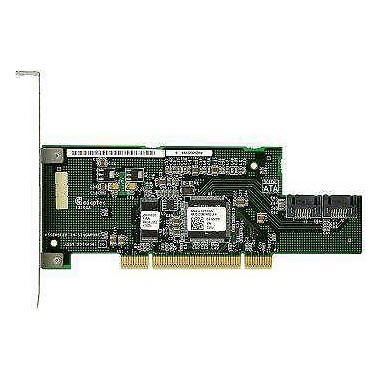 Adaptec AAR-1210SA 1210SA SATA RAID Controller Card
The two-port Adaptec Serial ATA RAID 1210SA provides cost-effective storage connectivity and data protection for desktops, workstations and sub-entry servers. Featuring Adaptec HostRAID, the controller supports up to two Serial ATA drives with RAID levels 0, 1, and JBOD. Managed by Adaptec Storage Manager.
Supported Operating Systems
Microsoft Windows
Red Hat Linux
For a detailed list see ASK Answer ID 10937
Benefits
Low-cost Serial ATA RAID controller for data protection and increased performance.
Key Differentiators
48-bit LBA supports drive sizes larger than 137GB
Supports bootable arrays
Adaptec Storage Manager simplifies array creation and management through pop-up tips and online help.
Customer Needs
Ideal for desktop and workstations as well as sub-entry servers requiring RAID mirroring or striping
System Environment
Desktop
Capacity
Max. physical disk drive size: 1TB
RAID Levels
0, 1, JBOD
Key RAID Features
Background initialization
Support bootable arrays
Number of devices
Up to 2 Serial ATA drives
Bus System Interface Type
32-bit/66MHz PCI
Internal Connectors
Two Serial ATA ports
Data Transfer Rate
Up to 1.5 Gbits/sec per port
System Requirements
Pentium or equivalent PC with available 3.3V or 5V PCI slot
32-bit PCI bus 2.2 compliant, CD-ROM drive
Floppy disk drive
Device Support
Up to two Serial ATA disk drives
48-bit LBA supports drive sizes larger than 137 GByte
Board dimensions
Low-profile card: 2.5 inch H x 6.6 inch L
6.4 cm H x 16.8 cm L
Operating temperature
Power consumption
Regulatory Certification
1 op voorraad
Extra informatie
Beoordelingen (0)