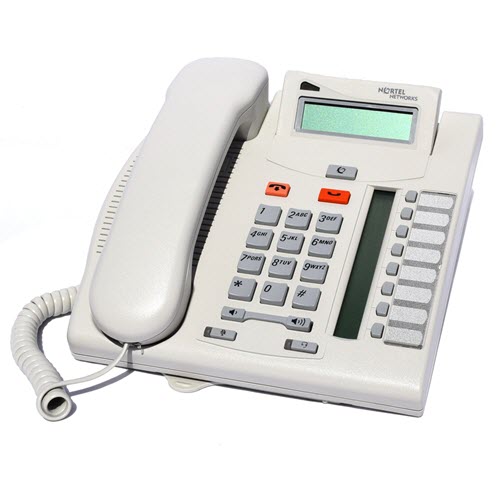 Aastra Nortel Norstar T7208 T 7208 platinum business telefoon
This Norstar T7208 is an outstanding phone for any small office. The phone has an enhanced-level, multi-line telephone with a superb integrated LCD. The phone has some real cool features like 8 programmable memory buttons with a very nice LCD indicator. As well the phone also can support up to 6 lines of crystal clear communication. This phone was built for moderate call volume users, as well as your office professionals and technical specialists.
It comes with a very nice tilt-display that also has an integrated visual and message waiting indicator. It also has a built in headset jack for easy use. The phone also has an audio control center built into the phone. This magnificent phone can also be found with its manufactures unique part number NT8B26.
The phone comes in 2 great colors of charcoal as well as platinum. It is absolutely compatible with Norstar and Business Communication Manager systems. It is also compatible with all releases of CICS and MICS as well all the releases of Nortel BCM. It is even compatible with IP office an IP office quick version equipped with IP500 TCM8, IP500 digital station 16A, or IP500 digital station 30A.

Features
Supports up to 6 lines
8 programmable memory buttons with LCD indicator
Tilt-display with integrated Visual Ring/Message Waiting Indicator
Audio control center
Compatible with Norstar and Business Communication Manager systems
Color : platinum
Dit is een nieuw product !!
14 op voorraad
Extra informatie
Beoordelingen (0)