Winkelmand bekijken
"Nortel Meridian Norstar M7208 Telephone ash" is toegevoegd aan je winkelmand.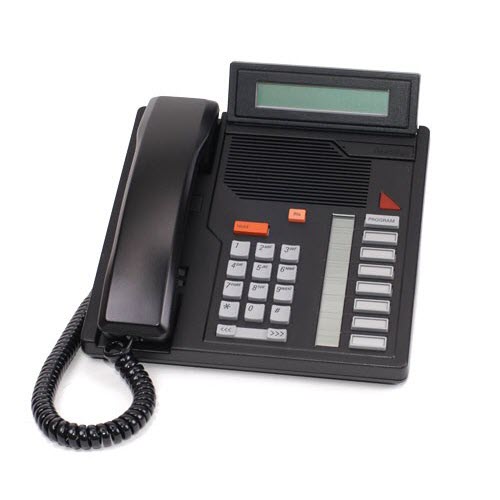 Aastra Nortel Meridian M5208 telefoon (NT4X41) black
The Meridian M5208 is a Digital Centrex phone that has Multiple Access Directory Numbers capability. This phone comes with an excellent liquid crystal display attached to the very top of the phone. The display is 2 line by 24 characters. This is helpful with the caller ID notifying you of the inbound call or who is being transferred to you from within the company.
Part Number: NT4X41
The display will also show the date and time as well. It also comes with a visual ringing indication lamp. The lamp is just to the right side of the phone just under the display. The indicator lamp will flash to let you know you have incoming calls. Also if you are on the phone it will notify you of any voice mail messages you have waiting.
This magnificent digital phone also comes with 8 programmable line or feature keys.
They are well placed along the right side of the phone. The placement of the buttons
makes for excellent use when multi tasking. Another helpful design that is well placed in the middle of the phone, are the hold and release keys that are color coded for easy detection. Below those keys you have the number key pad to dial out or make line transfers within the company. Beneath those keys you have the volume control bar that controls the headset sound as well as the hands free speaker. The built in speaker on this model permits you to onhook dial, plus it will make it easy for voice mail access.
This outstanding phone comes with a loop powered system. So during a power outage the phone will still have power and all your displays will still have capabilities. This magnificent phone can be wall mounted if needed for space saving or just lay flat on the desk. Another exceptional item about this phone is the unique part number NT4X41.
This makes it easy to locate the correct phone when purchasing. This phone comes in 3
bold colors Ash, Black as well as grey.
Color : Black
Dit is een nieuw product !!
3 op voorraad
Extra informatie
Beoordelingen (0)
Gerelateerde producten
Aastra Nortel Meridian M5008 telefoon (NT4X40) cameleon grey

This Meridian M5008 was built so it could maximize the use of Nortel Network's Meridian Digital Centrex features. This particular design was created to be used in places like a hospital reception area, back warehouse of a department store or even a front desk of a grocery store. This telephone comes as a single-line set with superb multi-line functionality. It is a line powered phone which means it does not have to be plugged into the wall socket. This is a pleasant feature because it can still provide basic telephone service if youre building has power failure. read more…

Part Number: NT4X40

Some other superior features to this phone are the enlarged keypad with control bar for easy dialing as well as great volume adjustment. The phone comes standard as an 8 system with programmable keys for feature or directory access. The designation labels and key caps on this model come in English, Spanish and French. It also has on-hook dialing for convenient call setup or voice mail access. It has a helpful line indicator so at a glance you can tell if the phone is in use or if you have messages waiting. You can establish primary directory numbers so when you lift the handset, numbers are automatically selected for outgoing calls. The well placed hold and release keys on the phone make for better call processing.
Depending on the work environment this nifty phone can be hung on the wall or lay flat on the desk. The sleek, low profile style on how it was made makes for minimum space needed. It comes in 2 professional colors black and ash. Also has a very distinctive part number NT4X40 which makes for easy look up.

Color : ASH / Cameleon Grey

Dit is een nieuw product !!

€

48.35 incl. 21% BTW