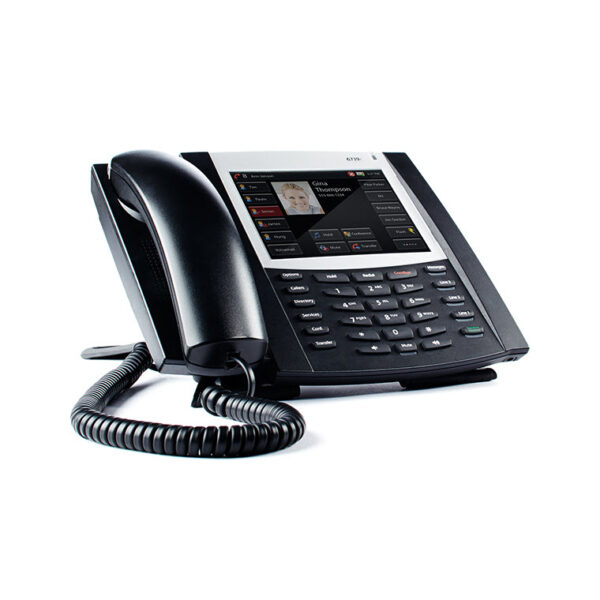 Aastra 6739i VoiP telefoon met bluetooth voor 9 lijnen
Uitverkocht
Beschrijving
Extra informatie
Productbeschrijving
Uitzonderlijke mogelijkheden in een geavanceerde en uitbreidbare IP-telefoon voor het hoogste segment De Aastra 6739i is de laatste toevoeging aan de op open standaarden gebaseerde 6700i Serie SIP-toestellen. Hij brengt het laatste op het gebied van communicatietechnologie naar uw bureau in een smaakvol ontwerp. Hij is voorzien van een 5.7" full color high resolution VGA touch screen display, een intuïtieve grafische interface, touch screen softkeys, full duplex wideband audio luidspreker en and hoorn, speciale meldings-LEDs, Ingebouwde Bluetooth interface en een USB poort. De Aastra 6739i is ook voorzien van meerdere aansluitingen voor headsets, ondersteunt tot negen lijnen met gespreksaanduiding, dual Gigabit Ethernet Interfaces en uitgebreide mogelijkheden om gesprekken te beheren.
Kenmerken
• Groot Touch Screen Display
Het hoge resolutie (640 x 480) full VGA aanraakscherm met verlichting is het hart van de Aastra 6739i. De moderne display is voorzien van navigatiemenu´s waarmee u volledig gebruik kunt makenvan de krachtige belmogelijkheden van deze SIP-telefoon. De helderheid kan worden aangepast zodat – ongeacht het licht van omgeving – optimaal gebruik kunt maken van het scherm.
• Aastra Hi-Q™ Wideband Audio Technologie
Alle 67xi Series IP toestellen beschikken over Aastra Hi-Q™ audio technologie voor optimale prestatie en spraakkwaliteit. De geïntegreerde breedband audio software en hardeware zorgt ervoor dat de geluidsprestaties bij elk gesprek buitengewoon zijn, zowel bij het gebruik van handset, de handsfree speaker en de hoofdtelefoon.
• Flexible Headset Mogelijkheden
De 6739i geeft u flexibiliteit bij het gebruik van een headset. Hij beschikt over een ingebouwde Bluetooth interface en speciale EHS (DHSG) poort. Hierdoor zorgt de 6739i dat u mobiel bent op kantoor en tegelijkertijd kunt genieten van de uitzonderlijke audiokwaliteit op uw draadloze headset.
• Eenvoudige ingebruikname
De Aastra 6739i  is vanaf het moment dat u hem in gebuik neemt en instelt tot en met toekomstige uitbreidingen en upgrades ontworpen om uw organisatie tijd en geld te besparen. Dual auto-sensing switched Gigabit Ethernet poorten maken extra bekabeling overbodig en maken de installatie eenvoudig zonder aan bandbreedte in te hoeven leveren. De geïntegreerde IEEE 802.3af Power-over-Ethernet ondersteuning zorgt ervoor dat stroomvoorziening en backup centraal kunnen worden geregeld.
Voornaamste eigenschappen (*1):
Groot 5.7 "Full VGA (640×480) Kleuren LCD-aanraakscherm
Geïntegreerde Gigabit Ethernet en Bluetooth-ondersteuning
Ingebouwde USB-poort
Intuïtieve grafische gebruikersinterface en navigatie menu's
Toetsenbord op het scherm voor eenvoudige invoer en bewerking
XML-ondersteuning voor toepassingen die de productiviteit vergroten
Tot 9 lijnen met call appearances
Multi-proxy ondersteuning
Tot 55 programmeerbare softkeys
Specifieke belsignalen, priority alerting
Persoonlijke telefoonboek en Redial list met Picture support
Doorschakelen, doorverbinden, Call waiting, Gesprekstimer
Caller en Calling Line informatie
Callers list, Missed Call notificatie
Ingebouwde Local 3-way conferentie ondersteuning
Intercom en Paging met autoanswer
One-touch doorverbinden, conferentie of call park
Busy Lamp Field (BLF) ondersteuning
Shared call en bridged line weergaves (SCA, BLA)
Aastra Hi-Q ™ Audio Technology (*3)
(*1) Feature beschikbaarheid afhankelijk van het IP-telefonie systeem (*3) Vereist een goede setup van G.722 wideband codec
Feature Keys and other Interfaces
3 dedicated line/call appearance keys with LEDs. Additional keys can be programmed on the LCD screen
Voicemail key with LED
Up to 55 customizable softkeys available on screen
14 dedicated hard keys including: Voice Messages, Transfer, Conference, Services, Directory, Callers List, Hold, Redial, Mute, 2 volume keys, Speakerphone/Headset toggle, Options, Goodbye and Callers List
Built-in USB port for future applications
Audio, Headsets and Codecs
Aastra Hi-Q™ Audio Technology(*3)
HD hardware design for enhanced wideband audio (handset, speakerphone and headset port)
Full-duplex quality speakerphone
Echo cancellation, comfort noise, packet loss concealment, adaptive jitter buffers and voice activity detection (VAD) technology
Modular Headset Connector with built-in amplifier
Built-in EHS (DHSG) port for wireless headsets
Bluetooth headset support
Hearing aid compatible (HAC) handset
Individual volume setting with visual indication for each audio device
Codecs: G.711 μ-law / A-law, G.729, G.722 wideband, BV16, BV32, L16
Display and Indicators
Large 5.7" Full VGA (640×480) Color Touch Screen LCD
Intuitive graphical user interface and navigation menus
Adjustable screen brightness for user comfort in different lighting environments
Dedicated LED for call and message waiting indicator
Security(*1)
User and administrator level passwords for login
Encryption of configuration files
HTTPS configuration download and web management
SIP Digest Authentication
Transport layer Security (TLS)
Secure Real-Time Transport Protocol (SRTP
XML API Capabilities
Display control based on user actions or on events
Dynamic Phone Configuration
CTI applications
See XML API Documentation for more details
Interoperability
Visit www.aastratelecom.com/ipphones for an up to date listing of approved vendor/interoperability
Expansion Modules
Supports up to 3 M670i or M675i modules
High Density expansion bus for future adjunct modules
Localization
Multi-lingual support – English, French, Spanish, Italian, German

Downloadable language pack support for customization and additional language translations

Country-specific call progress tones and cadences
Latin1, Latin 2 Character set
Protocol
IETF SIP (RFC3261) and associated RFCs
Networking and provisioning
Dual 10/100/1000 Mbps switched Ethernet ports (LAN and PC ports)
Manual or Dynamic Host Configuration Protocol (DHCP) IP address setup
Support of multiple DHCP options: 66, 60, 43, 77, 159, 160
Time and date synchronization using SNTP
Quality of Service (QOS) support – IEEE 802.1 p/Q VLAN and priority tagging, Type of Services (TOS), and Differentiated Services Code Point
Network Address Translation (NAT), STUN, TURN support
Integrated HTTP/HTTPS server for web administration and maintenance including a built-in troubleshooting section
Mass deployment via central provisioning of user configuration files – TFTP, FTP, HTTP, HTTPS
Redundant server support

DNS-SRV
Local backup registrar and/or proxy server

RTCP support (RFC1889)
IEEE 802.1x
LLDP-MED
Power
Integrated IEEE 802.3af Power Over Ethernet (PoE) support
AC adapter (48V DC) sold separately. AC adapter is required if using expansion modules
Package content
Aastra 6739i phone
Handset and coil cord
2 x Footstand
Ethernet cable
Wall mounting kit
Documentation CD
Physical
23.5cm W x 20.8cm D x 7.7cm H (9.3" W x 8.2"D x 3 "H)
1076g (34.59 oz)
Operating conditions
Operating Conditions:

Temperature: 0°C to 50°C (32°F to 122°F)
Relative Humidity: 20% to 90%, noncondensing

Storage Temperature: -20°C to 70°C (-4°F to 158°F)
Regulatory
CE /Europe
ROHS compliant
WEEE (2002/96/EC)
CE Mark (2004/108/EC EMC Directive and 73/23/EEC Low Voltage Directive)
EMC
FCC Part 15 Class B
ICES-003 Class B
EN55022 Class B
CISPR22 Class B
EN55024
Safety
CAN/CSA C22.2 No. 60950/ UL 60950-1
EN 60950
AS/NZS 60950
CB scheme
Telecom/RF
FCC Part 68 (Hearing Aid Compatibility)
FCC Part 15 Subpart C, Section 15.247
Industry Canada, RSS-210
Part Numbers
A6739-0131-10-01 – Power adapter sold separately. Eng Kpad.
A6739-0131-10-55 – Power adapter sold separately. Symbol Kpad.
Recommended Power Adapters
D0023-1051-02-75 (North America)
D0023-1051-00-75 (Universal)