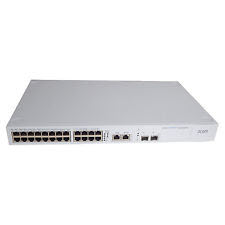 3Com 3C17304A Switch 4200 28p, 26×10/100 + 2x1Gbit
Affordable, Flexible 10/100 Switching. For copper-wired Ethernet networks that need premium switching performance and the flexibility of Fiber or Copper Gigabit uplinks (via fixed 10/100/1000 or SFP ports) without the complexity and high price, the 3Comr Switch 4200 28 Port is an innovative, yet very practical solution.
This 28-port Ethernet switch combines wirespeed Layer 2 switching with easy installation and exceptional reliability. Twenty-four autosensing 10/100 copper ports provide flexible desktop and workgroup attachments, while two autosensing 10/100/1000 copper uplink ports support stacking or Gigabit connections, and two flexible SFP expansion slots enable an additional choice of fiber or copper Gigabit Ethernet backbone and server connections.
Producteigenschappen van 3Com 3C17304A Switch 4200 28p
. Ports: 24 autosensing 10BASE-T/100BASE-TX, two 10BASE-T/100BASE
. TX/1000BASE-T, 2 SFP ports accommodating 1000BASE-SX, 1000BASE-LX,
. 1000BASE-T, or 1000 BASE-LH70
. Media Interfaces: RJ-45
. Ethernet switching features: Full-rate nonblocking on all Ethernet
. ports, full/half-duplex auto-negotiation and flow control, multicast
. Layer 2 filtering, 802.1Q VLAN support, 802.1p traffic prioritization,
. IGMP snooping
. Height: 4.36 cm (1.7 in)
. Width: 44.0 cm (17.3 in)
. Depth: 27.4 cm (10.8 in)
. Weight: 2.4Kg (5.2 lb)
1 op voorraad
Extra informatie
Beoordelingen (0)