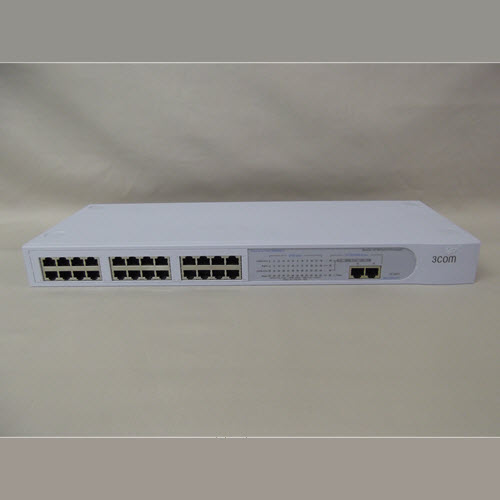 3Com 3C16475 Baseline Switch 2226 Plus
3Com SuperStack 3 Baseline 10/100 Ethernet Switch – 24 x 10/100Base-TX, 2 x 10/100/1000Base-T
HP SuperStack 3 Baseline 24-port 10/100 plus 2-port GbE Switch
Features & Benefits
Affordable, Unmanaged 10/100 Ethernet Switching
The 3Com® Baseline Switch 24-Port Plus 2 10/100/1000 delivers highly affordable wirespeed switching for simple, high-density, copper-wired Ethernet networks that don't need management capabilities.
This fixed-configuration, non-blocking 26-port switch combines Layer 2 switching with plug-and-play installation and exceptional reliability. Twenty-four 10/100 ports provide flexible desktop and workgroup connections, while two built-in 10/100/1000 ports enable backbone and server connections.
All the ports automatically adjust to the speed of network devices, so the switch can accommodate a range of workgroup environments and legacy equipment types. The switch comes preconfigured for fast and easy installation using economical copper wiring. Advanced features include IEEE 802.1 traffic prioritization (two priority queues) and auto MDI/MDIX cable detection.
Product Specifications
Ports: 24 10BASE-T/100BASE-TX and 2 10BASE-T/100BASE-TX/1000BASE-T with auto MDI/MDIX on all ports
Media interface: RJ-45
Ethernet switching features: Full-rate nonblocking on all ports, full-/-half duplex auto-negotiation and flow control, 802.1p traffic prioritization
MAC addresses supported: 4,000
Height: 4.36 cm (1.7 in)
Width: 44 cm (17.3 in)
Depth: 17.2 cm (6.7 in)
Weight: 2.7 kg (5.8 lb)
1 op voorraad
Extra informatie
Beoordelingen (0)